Welcome to La Puente Advanced Dentistry, an established practice dedicated to the highest quality of dental care. We are proud to serve the La Puente community with excellent dental sevices.
Our mission is to enthusiastically and consistently offer quality care to our patients beyond their expectations. We realize this by listening to our well-esteemed patients, understanding their goals, and creating lasting, healthy, beautiful smiles in a relaxed, warm, and friendly setting. At La Puente Advanced Dentistry, we are devoted to serving patients in our community and the surrounding areas honorably.
Recognition
Regardless of the form of dental care you require, it would be best if you consulted an experienced dental expert. Peers constantly recognize our dental team as the premier practice. Additionally, we have been featured on Food Network, CBS News, Emmy Magazine, and Cosmopolitan magazine.
People who appreciate our combination of commitment to dental care and dental expertise have routinely recommended us.
While being recognized is an honor, we pride ourselves on our relationship with all patients and their loved ones. Please read our patient reviews to understand why our patients keep returning and referring us to our loved ones.
Meet Our Skilled and Friendly Team
The staff at La Puente Advanced Dentistry focuses on a comprehensive approach to dental health. By educating and treating patients, our dental team assists patients to remain healthy between their visits.
At La Puente Advanced Dentistry, we know that you've lots of oral care options, and we appreciate your trust. From the moment you get into our office, our friendly and attentive staff commit themselves to offer you confidence and peace of mind that your oral health and smile are in trustworthy and qualified hands.
Your initial appointment is an opportunity for us to interact with you. Your visit will be comfortable and thorough as we deliberate your goals and needs. Do not hesitate to raise your concern and questions. We believe that establishing a direct and open line of communication is an excellent way of building relationships with patients.
We listen to our patients as a way of enabling them to feel relaxed. The personal strategy is evident in all our activities. From booking dental appointments, filling out paperwork, performing examinations, and throughout the treatment, our dentists take time to connect with patients and give them the undivided attention they deserve.
All our team members are trained on advanced dental techniques and processes so patients can get the best from the latest in our dental practice. We are also experienced in not only treating but also identifying the cause of your oral health issue. This approach sets patients on the road to recovery and long-term dental health.
All members of our talented team get to know you and treat you like an old friend. Fear and anxiety disappear as you sit in comfortable chairs and watch your favorite movie. In addition, we offer sedation services, including oral conscious or nitrous oxide sedation to patients requiring a higher degree of comfort or anxiety.
Our team is dedicated to continual learning and education, allowing us to give you the best possible results. We attend meetings, dental conventions, and dental lectures to remain informed of the latest techniques and products that a modern dental office can employ to offer top-notch dental care. Additionally, membership in several professional dental associations enables us to remain abreast of recommendations and changes in our industry.
From your child's milk tooth to extracting grandparents' teeth or fitting dentures, our dentists are skilled in providing comprehensive care for the whole family through all phases of life. Our practice has kept many generations smiling, and we could do the same for yours. Our certified family dentists welcome patients to receive dental services and procedures from the degree of precision and attention we embody. We offer services such as:
Crowns
Deep cleaning
Pediatric dentistry
Composite fillings
Inlay and Onlay
Implants
Invisalign
Veneers
Root canal
Oral surgery
Advanced dentistry
Crowns and bridges
Gummy smile treatment
We consider it a compliment when patients refer us to their loved ones. There is nothing better than offering cutting-edge, superior services while building lasting relationships with patients.
Dr. Isaac Kahen Kashani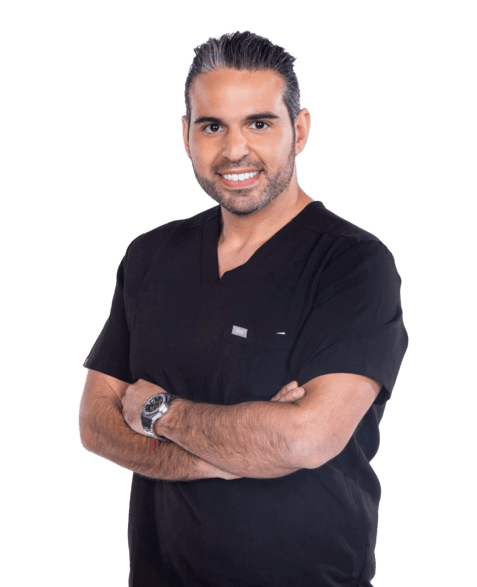 Born in a family of successful professionals, Dr. Isaac Kahen Kashani has always been inspired to be the best. Given his academic achievement, he joined UCLA, where he majored in Sociology and Biology and minor in Public Policy. After his undergrad, he joined New York University College of Dentistry.
He takes pride in offering high-quality treatment and continually pursues advanced courses for cosmetic dentistry, immediate load implant, traditional implant, advanced restorative dentistry, and sedation dentistry. Moreover, Dr. Kahen uses his extensive experience and training to treat the most complicated dental cases and understand the relationship between oral health and overall body health. His commitment to do it right and handle different dental issues has won him the admiration of peers and patients.
The most satisfying part of being a proficient dentist for Dr. Kashani is his relationship with his patients. He is conscious of the anxiety that accompanies dental visits. He is gentle, gentle, non-judgmental, and personable.
Since your overall health is our priority, you become family once you enter our office. All patients can call Dr. Isaac Kahen Kashani at any time by contacting our office and pressing 9 during the outgoing message. He will be happy to answer your questions and address your dental emergencies and concerns.
Affordability and Honesty are Our Core Values
We understand that dental care prices could be confusing. Therefore, we offer both up-front price information of treatment early and in-office payment methods that suit your budget.
We are in-network with several insurance providers, and we provide different forms of financing. We are glad to aid you in navigating the alternative payment options and dental health insurance.
Easy Access to Information and Dental Care
We understand the value of time. Consequently, we offer dental appointment reminders, prolonged office hours on specific days, and a fast turnaround time on appointment requests and calls. We are also ready to answer all questions at our office, via email, and by phone.
State-of-art Technology
Your dentist's skill level is a fundamental component in obtaining the most from the treatment. Nevertheless, if your dentist doesn't have the right equipment, no amount of talent can fill the void.
At La Puente Advanced Dentistry, we take pride in offering the best dental health care possible by using state-of-art technology. By investing money in education and the latest technology, we provide more precise and less invasive procedures, helping us:
Communicate your treatment needs
Diagnose potential dental challenges
Plan effective and personalized treatment
Spend Time with an Experienced Family Dental Expert
In our dental office, our staff reserves your time with interruptions. We do not overschedule appointments to keep the schedule full. Patients can spend any amount of time with our skilled dentists. We will listen to your goals and perception before taking any dental x-ray. After a thorough exam, your physician will analyze the findings and discuss the next course of action based on your needs and preference.
Our practice provides a patient-focused, inviting, and warm setting. We are friendly, professional, and always searching for strategies to make the visit more convenient, rewarding, and comfortable.
Our goal is to give you a lasting smile you will be proud of and satisfied with. Contact us at 626-626-7075 to schedule your initial consultation.